Most women we know have a soft corner for guys who wear spectacles and more importantly, wear them well. So when geek chic made its appearance on the fashion front lines, we couldn't have been happier. And since we have admired guys who wore their smartness on their fashionable sleeves for a while now,we figured it was our responsibility to educate the other members of the male community on how to become a bona fide member of the oh-so-fashionable geek chic club. So, here it goes. The six essentials you need in your wardrobe to master the 'smart, intellectual, and yet, very badass sexy' look.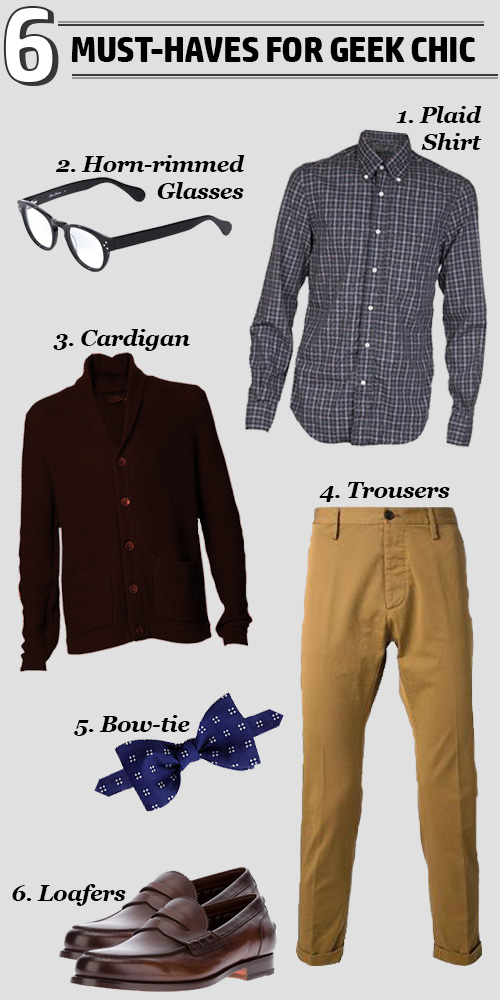 1. Plaid Shirt; 2. Horn-rimmed glasses; 3. Cardigan; 4. Trousers; 5. Bow-tie; 6. Loafers
Now while these are must-haves in your wardrobe, you could always switch it around a bit. Swap a cardigan for a waistcoat. Try braces with your pants instead of wearing an oh-so-boring belt. Also keep it cool. There is no need to overdo the look more than you need to. Just wear the essentials you choose with an attitude that spells I know I am smart.
The geeks have taken over the world and they are doing it in style. It's time you caught up with them. Don't you think so?
Shop For Best-Sellers Here:
Comments
comments