The brand's easily a favourite for lipstick lovers because the colour pay-off of MAC lipsticks is really something else.
On the back of their successful Viva Glam collection by Ariana Grande (we hear another one's in the works), comes their Good Luck Trolls collection that's amped up with 90s nostalgia and neon brights which are totally on trend.
Yes, this limited edition is our latest obsession; you have the candy-coloured collectable cases and the bold shades in blues, golds, and even greens to thank.
Also, how cute are the names: Bubble Butt Lipglass; Suns Out, Buns Out Eyeshadow; Glow Rida Beauty Powder… it's all very playful and amusing.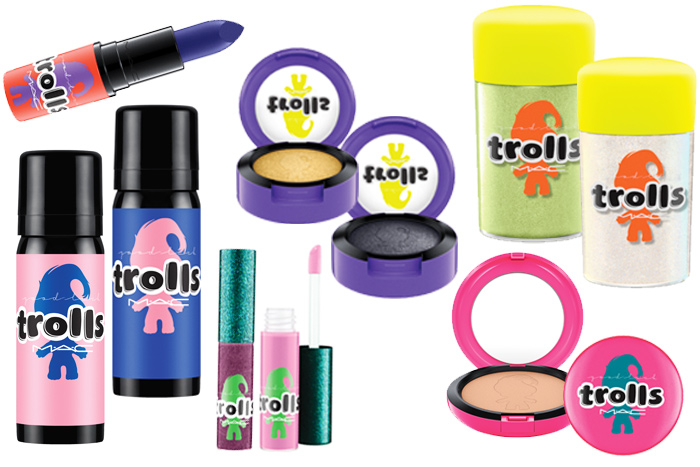 Now, the MAC Cosmetics Good Luck Trolls collection is a 22-piece limited edition which packs in everything you could need, right from lipsticks, glosses, eyeshadows, to powders, pigments, glitters, and even a hot pink makeup brush. An added bonus are the two Chroma Craze hairsprays in pink and blue for that Kylie Jenner makeover when you feel like going all out.
At first glance, a lot of the colours look daunting and like they won't stay put for very long. But, for those who dare, we assure you that this could easily become one of your favourite collections by the brand as it is highly pigmented and works well with every skin tone. You're going to want to hoard these babies cause, soon you'll be wishing it wasn't a limited edition.
It'll cost you £14 for eyeshadow, £17 for lipstick, £16.50 for the lipglass, £17.50 for the glitter powder, £24 for the beauty powder (blush), £17 for hairspray, and about £38 for the makeup brush.
If you haven't got your hands on the collection already, know that the clock's ticking and it'll be pulled off the shelves by September 15. Happy trolling. 🙂
Shop For Best-Sellers Here:
Comments
comments